7 Cool Ideas for Re-purposing Old Furniture
! | June 15th, 2020 | By Amanda Cash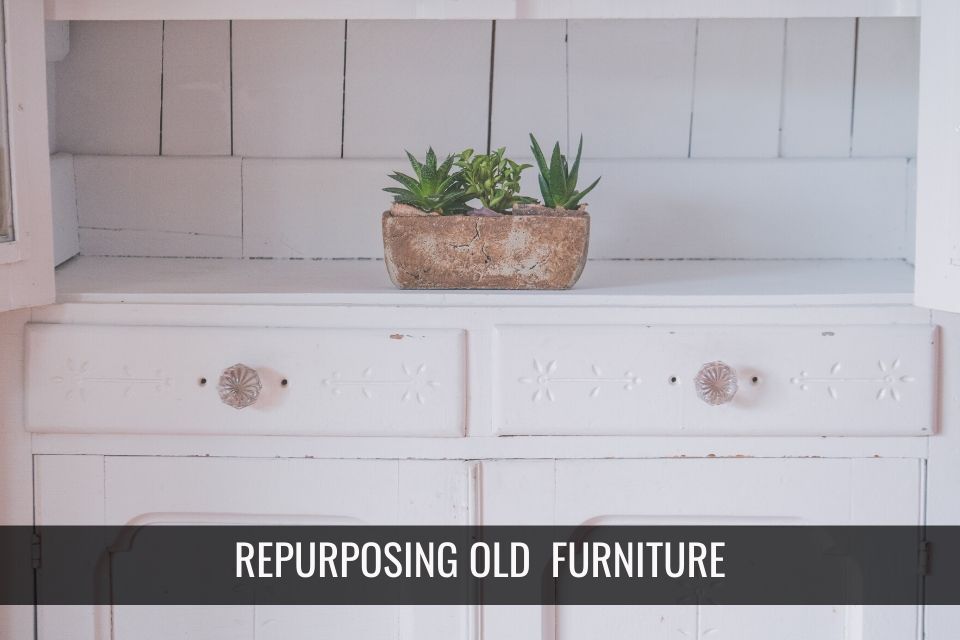 7 Cool Ways to Repurpose Old Furniture
Are you looking for a fun project that will add some pizzazz to your home – that doesn't require a degree in carpentry?
Before you leave your old furniture on the curb with a sign that says, "free to good owner," here are 7 creative ideas that will revitalize that furniture and

leave anyone feeling handy.
1. Rustic Planter – Enhance any backyard space by painting an old bedroom side table with a fun color, pull out the drawer, and use it as a planter.
2. Kitchen Island – No built-in island? Transform an old dresser by adding a custom countertop. The drawers will come in handy also.
3. Crib Appeal – We all need more storage. Take off one of the side rails of that old crib and add a piece of glass or butcher block on top to make a cool bookcase or craft table.
4. Cabinet Door Headboard – Reuse those old cabinet doors by creating a custom headboard for a guest bedroom. Paint white or multi-colors for a country chic look.
5. Vanity Transformation – Remove the backing from an old dresser, add a sink, and you have a cool vanity for your bathroom.
6. Bedspring Bottle Holders – No wine rack? No problem. Remove old mattress bedsprings, attach to a wood panel, and store your wine bottles with this cool rack.
7. Pet Bed – Every pampered pet needs a bed. A drawer from an old dresser makes a cool pet bed. Attach some short furniture legs and add a cushion for indoor or outdoor use. If you have some time on your hands and old furniture to get rid of, maybe you can repurpose them and spruce up your décor at the same time with these fun ideas.
A message for our graduates! | May, 22nd 2020 | By Amanda Cash
Congratulations to the graduates all over our country 🇺🇸 for completing such a big milestone in your lives!

To the pre-school graduates 🎓 moving on to their new big kid school. Don't be afraid, you will make friends & it will be so much fun!

To the 8th grade graduates 🎓 moving on to high school, this is the time in your life where you will find yourself & make some of the best memories with hopefully your lifelong friends! Some of the choices you make here will be with you forever. Make the most of them!

To the high school & college graduates 🎓 you did it!! Here's to stepping into the next chapter of following your dreams & reaching for the stars! Cheers to your new & improved adult lives!

To our graduate 🎓 a special congratulations to you, the little lady in my life that I am so proud of...my daughter Amira! As I may be sad that you are growing up so quickly, I am also looking forward to watching you blossom into high school ❤️

You will all be starting a new path that will be anything & everything that you make of it! Put your best foot forward. I wish you all the happiness & success your hearts desire!
Happy Mothers Day| May, 10th 2020 | By Amanda Cash
ℍ𝕒𝕡𝕡𝕪 𝕄𝕠𝕥𝕙𝕖𝕣𝕤 𝔻𝕒𝕪!
With all that is going on in our world it is so nice to take a moment, or a day and reflect and cherish time with your loved ones especially our babies and our Mamas. It was nice to feel a little more human & have some interactions with our family. I woke up today even more thankful than I was the day before. My 2 daughters (14 and 8) and awesome husband really made me feel like this day was for me. I was treated to a buffet brunch homemade by these three.
---
WOW...That is what I call a breakfast buffet! So yummy!
I love my REALTOR/FRIENDS t-shirt, and yes I will absolutely be there for you too!
I had a nice back rub from my oldest and even a 30 second foot rub from my youngest! I wish every day was Mothers Day! That is my yorkie Alfedo, he always picks a random spot wherever he wants to lay on top of me. He loves to snuggle!
After seeing our family we came home & together we made our own hibachi for dinner! We usually go to Tokyo Japanese Steakhouse every Mothers Day. We decided to make it ourselves. We even did the memorable shrimp toss... untill all four of us caught one! Our little yorkie Alfredo was loving it when we missed the toss! We were unable to get that yummy yellow sauce to taste the same, but everything else we made was very similar and it was all so good!
Now let me explain that rice back there is CAULIFLOWER and my kids no longer can tell the difference between regular rice and cauliflower rice...Score!
That black stuff is indeed the bacon from the filets which we did not eat as it did not look appetizing to me!
I know this is not just a day just for me and my babies...
There are so many other Mamas out there including including my own. I have two! The one who carried me in her womb for 9 months and the amazing one I married into, I love them both very much! To both of my Mom's, my Grandma's, my sister, aunts, cousins, my friends, my amazing clients, you mominals (moms of animals) and every other amazing mama out there, I wish you all the very best Mother's Day! Enjoy YOUR day!
Will Home Values Appreciate or Depreciate? | May, 9th 2020 | By Amanda Cash
Here is the question I have been getting all the time...
Will Home Values Appreciate or Depreciate in 2020? Great news for you!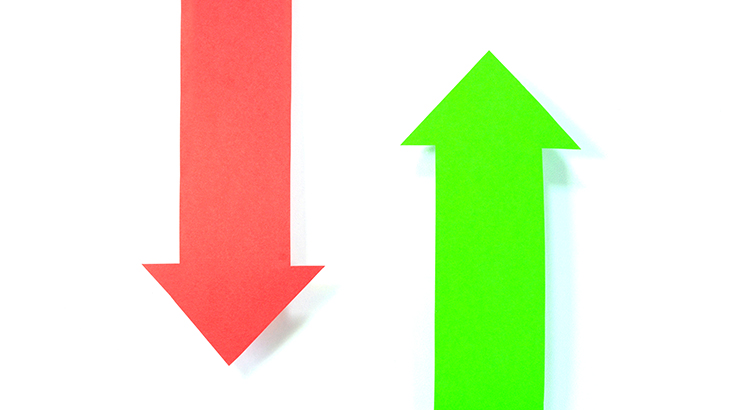 With the housing market staggered to some degree by the health crisis the country is currently facing, some potential purchasers are questioning whether home values will be impacted. The price of any item is determined by supply as well as the market's demand for that item.
Each month the National Association of Realtors (NAR) surveys "over 50,000 real estate practitioners about their expectations for home sales, prices and market conditions" for the REALTORS Confidence Index.
Their latest edition sheds some light on the relationship between seller traffic (supply) and buyer traffic (demand) during this pandemic.
Buyer Demand
The map below was created after asking the question: "How would you rate buyer traffic in your area?"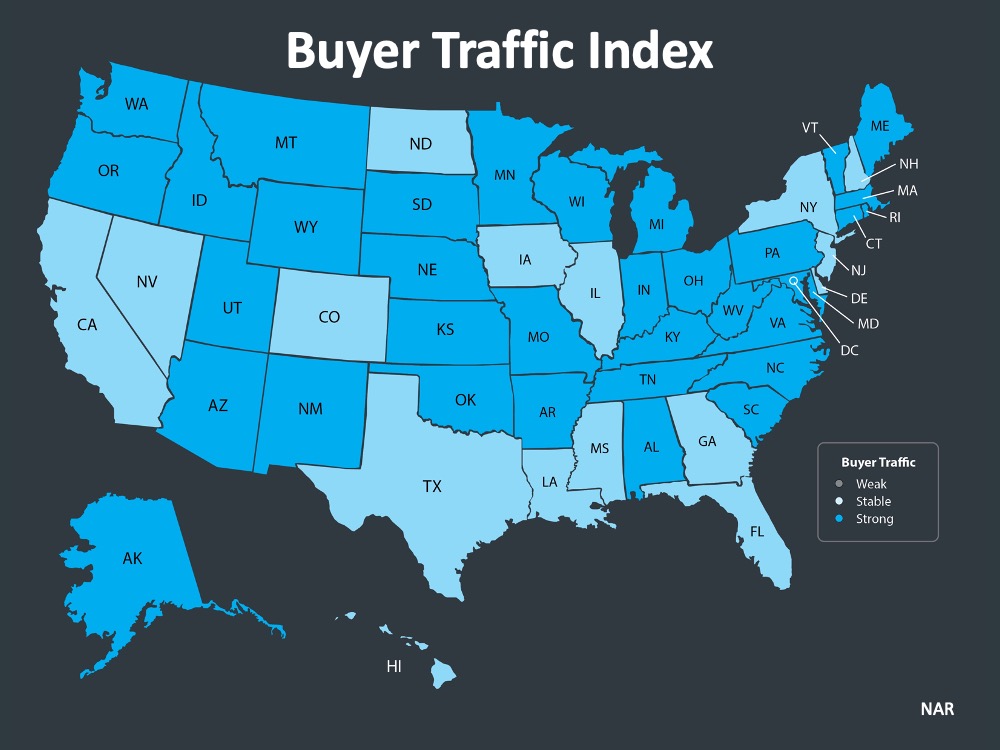 The darker the blue, the stronger the demand for homes is in that area. The survey shows that in 34 of the 50 U.S. states, buyer demand is now 'strong' and 16 of the 50 states have a 'stable' demand.
Seller Supply
The index also asks: "How would you rate seller traffic in your area?"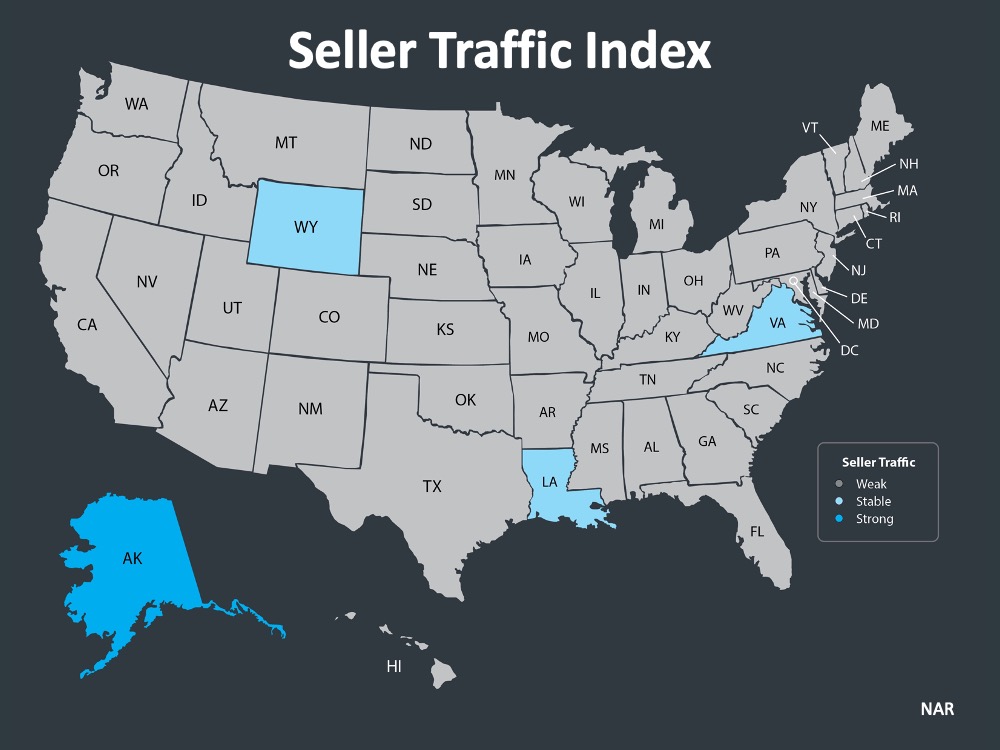 As the map above indicates, 46 states and Washington, D.C. reported 'weak' seller traffic, 3 states reported 'stable' seller traffic, and 1 state reported 'strong' seller traffic. This means there are far fewer homes on the market than what is needed to satisfy the needs of buyers looking for homes right now.
With demand still stronger than supply, home values should not depreciate.
What are the experts saying?
Here are the thoughts of three industry experts on the subject:
"We note that inventory as a percent of households sits at the lowest level ever, something we believe will limit the overall degree of home price pressure through the year."
Mark Fleming, Chief Economist, First American:
"Housing supply remains at historically low levels, so house price growth is likely to slow, but it's not likely to go negative."
"Two forces prevent a collapse in house prices. First, as we indicated in our earlier research report, U.S. housing markets face a large supply deficit. Second, population growth and pent up household formations provide a tailwind to housing demand."
Bottom Line
Looking at these maps and listening to the experts, it seems that prices will remain stable throughout 2020. If you're thinking about listing your home, let's connect to discuss how you can capitalize on the somewhat surprising demand in the market now.
Is Real Estate Essential? | April, 9th 2020 | By Amanda Cash
𝕀𝕊 ℝ𝔼𝔸𝕃 𝔼𝕊𝕋𝔸𝕋𝔼 𝔼𝕊𝕊𝔼ℕ𝕋𝕀𝔸𝕃❓❓


I have been getting several calls, texts & emails asking what is going on in the real estate world? The most common question I have heard... Is real estate essential? The answer? Yes and No!
Let's start with the YES:
Yes, it is essential for those in need of housing.
Yes, it is essential for those financially burden.
Yes, it is essential for those being relocated to sell their homes.
Yes, it is essential for those under contract to buy or sell.
Yes, it is essential for those who are in the middle of new construction build.
Yes, there are other factors that attribute to the meaning of "essential housing" needs but these are the major ones.
ℕ𝕆:🚫
No, it is not essential for realtors to setup private tours on homes for buyers who have no intention of getting pre-approved. They should actually have this done prior to a private tour.
No, it is not essential for realtors to physically show homes to buyers who have no intention of buying right now and are wanting to purchase in 6months+. Why not? The home you want to see today will likely not be available in 6 months.
No, it is not essential for a realtor to schedule 15 showings in a day for a buyer because they are bored and want something to do.
Why? Buyers want to see their options. We do not want to settle on something that isn't "the one".
I completely agree, understand, and respect what you are saying. However, they are trying to eliminate the spread with a lot of traffic coming in their homes. We also know MANY of us are either at home working or we are being asked to stay home. Sellers do not have anywhere they can go except take a walk or go sit in their cars. And we are being asked to do virtual tours and avoid in person private tours unless absolutely necessary.
𝔸𝕓𝕤𝕠𝕝𝕦𝕥𝕖𝕝𝕪 𝕟𝕖𝕔𝕖𝕤𝕤𝕒𝕣𝕪??
Let's dive in!
You have found the home you believe to be your dream home!! YAY!!!
You have read through the seller's disclosures provided to you by your realtor ✅
You have asked all your questions that you seem to ask on every home you have seen already. I call them your "deal breaker questions"!
𝔻𝕖𝕒𝕝 𝔹𝕣𝕖𝕒𝕜𝕖𝕣 ℚ𝕦𝕖𝕤𝕥𝕚𝕠𝕟𝕤: (No order. Random questions I hear, not for everyone)
Is the house backing to trees or another home or body of water?
How close or far apart are the neighbors?
Is there a bathroom in basement?
Is there a designated office space?
Where is the laundry room?
What floor is the master?
Is there a jack and Jill bathroom?
How is the slope on the driveway?
You have seen the virtual tour ✅ and you have either driven by or seen the outside and neighborhood ✅ . You say to yourself I really think we would place an offer on this 🏠 home! However, I just do not know if I can do it without seeing the inside in person. What happens next?? I will attempt to schedule a private tour and will let them know we have done our due diligence prior.
𝕎𝕙𝕒𝕥 𝕙𝕒𝕤 𝕔𝕙𝕒𝕟𝕘𝕖𝕕?
Virtual when at all possible. 6ft+ when not possible.
𝕋𝕠𝕦𝕣𝕚𝕟𝕘:
Many are using the virtual tour as the guideline to help buyers and sellers. In person private tours? The 6ft apart rule would apply at all times, you are welcome to wear gloves 🧤(dispose when done) and mask 😷 and so are the agents. I would bring Lysol wipes to disinfect any area touched along with hand sanitizer for everyone to use. Sellers are encouraged to leave the lights on and doors inside the home open, so it prevents less touching 🖐 .
𝕀𝕟𝕤𝕡𝕖𝕔𝕥𝕚𝕠𝕟𝕤:
Many inspectors are asking that no one be in the home with them or not in the same room as they inspect. They are asking to discuss all their findings on the phone or via email 📧. They will outline explanations of findings with photos on their reports. If it is not possible for the sellers to leave, they are asking them to go in another room or step outside and to respect the 6ft rule.
𝔸𝕡𝕡𝕣𝕒𝕚𝕤𝕒𝕝𝕤:
Many appraisers are asking for the same distance as the inspectors. But they are still coming in the homes 🏠 to appraise them!
ℝ𝕖𝕡𝕒𝕚𝕣𝕤:
In lieu of home inspection repairs the KCRAR has suggested we ask for a monetary value instead.
𝕃𝕖𝕟𝕕𝕖𝕣𝕤:
They are still working hard on your loans; they are not stopping. Many lenders offering government loans (VA, FHA, USDA) are unable to approve loans with credit scores that fall below a new temporary guideline. What is that credit score you ask? This could vary from lender to lender and I would be happy to connect you with one for further guidance. Will this change once we get through the Covid-19 crisis? We are hopeful it will 🙂.
What are the interest rates right now?
They are not a consistent, set in stone rate. They never have been unless you are "locked in" And the best way for guidance on rates is for me to connect you with a lender.
𝕆𝕡𝕖𝕟 𝕙𝕠𝕦𝕤𝕖𝕤:
They are not allowed at this time.
ℂ𝕝𝕠𝕤𝕚𝕟𝕘𝕤?
Yes, we are still closing, and they are closing smoothly! Closings are happening all day every day of the work week. The process has changed, as these are being down without contact. They are being done curbside where the buyers will typically sign their documents in the car while on a call with their title closer.
ℂ𝕠𝕟𝕔𝕝𝕦𝕤𝕚𝕠𝕟:
Listings are coming on daily; buyers are searching every day! Realtors & lenders are working hard on the back end of things to ensure you are having a smooth process from start to finish. These stay home orders for housing may not even apply to you. Whether you are looking to buy or sell today or in 6 months, I am here to help you through every step, every question, to get your home sold quickly, for the most money and as always to guide you home! Give me a call ☎️ for any real estate needs you or someone you know might have coming up! To read more of my blogs go to the web link below!
Amanda Cash
📞 816-405-8711
📧 Amanda@CashRealEstateKC.com
You can still buy a home! | April, 1st 2020 | By Amanda Cash
The #1 Thing You Can Do Now to Position Yourself to Buy a Home This Year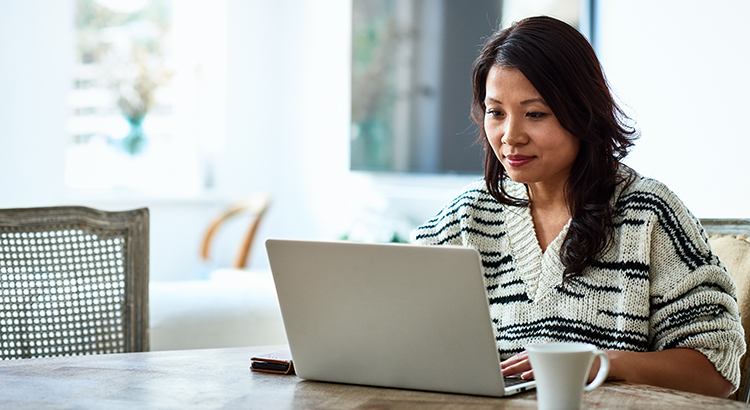 The last few weeks and months have caused a major health crisis throughout the world, leading to a pause in the U.S. economy as businesses and consumers work to slow the spread of the coronavirus. The rapid spread of the virus has been compared to prior pandemics and outbreaks not seen in many years. It also has consumers remembering the economic slowdown of 2008 that was caused by a housing crash. This economic slowdown, however, is very different from 2008.
One thing the experts are saying is that while we'll see a swift decline in economic activity in the second quarter, we'll begin a sharp rebound in the second half of this year. According to John Burns Consulting:
"Historical analysis showed us that pandemics are usually V-shaped (sharp recessions that recover quickly enough to provide little damage to home prices), and some very cutting-edge search engine analysis by our Information Management team showed the current slowdown is playing out similarly thus far."
Given this situation, if you're thinking about buying a home this year, the best thing you can do right now is use this time to get pre-approvedfor a mortgage, which you can do from the comfort of your home. Pre-approval will help you better understand how much you can afford so that you can confidently do the following two things when you're ready to buy:
1. Gain a Competitive Advantage
Today's low inventory, like we've seen recently and will continue to see, means homebuyers need every advantage they can get to make a strong offer and close the deal. Being pre-approved shows the sellers you're serious about buying a home, which is always a plus in your corner.
2. Accelerate the Homebuying Process
Pre-approval can also speed-up the homebuying process so you can move faster when you're ready to make an offer. Being ready to put your best foot forward when the time comes may be the leg-up you need to cross the finish line first and land the home of your dreams.
Bottom Line
Pre-approval is the best thing you can do right now to be in a stronger position to buy a home when you're ready. I work with an amazing team who can help you get the pre-approval process moving. Let's connect today to get the process started.
Stock Market Impact | March, 29th 2020 | By Amanda Cash
Why the Stock Market Correction Probably Won't Impact Home Values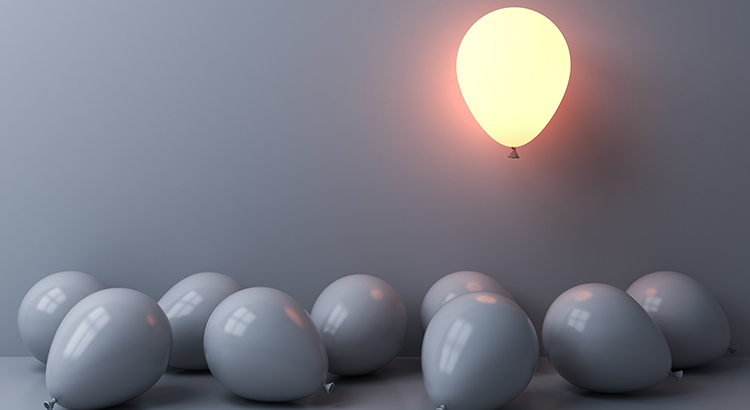 With the housing crash of 2006-2008 still visible in the rear-view mirror, many are concerned the current correction in the stock market is a sign that home values are also about to tumble. What's taking place today, however, is nothing like what happened the last time. The S&P 500 did fall by over fifty percent from October 2007 to March 2009, and home values did depreciate in 2007, 2008, and 2009 – but that was because that economic slowdown was mainly caused by a collapsing real estate market and a meltdown in the mortgage market.
This time, the stock market correction is being caused by an outside event (the coronavirus) with no connection to the housing industry. Many experts are saying the current situation is much more reminiscent of the challenges we had when the dot.com crash was immediately followed by 9/11. As an example, David Rosenberg, Chief Economist with Gluskin Sheff + Associates Inc., recently explained:
"What 9/11 has in common with what is happening today is that this shock has also generated fear, angst and anxiety among the general public. People avoided crowds then as they believed another terrorist attack was coming and are acting the same today to avoid getting sick. The same parts of the economy are under pressure ─ airlines, leisure, hospitality, restaurants, entertainment ─ consumer discretionary services in general."
Since the current situation resembles the stock market correction in the early 2000s, let's review what happened to home values during that time.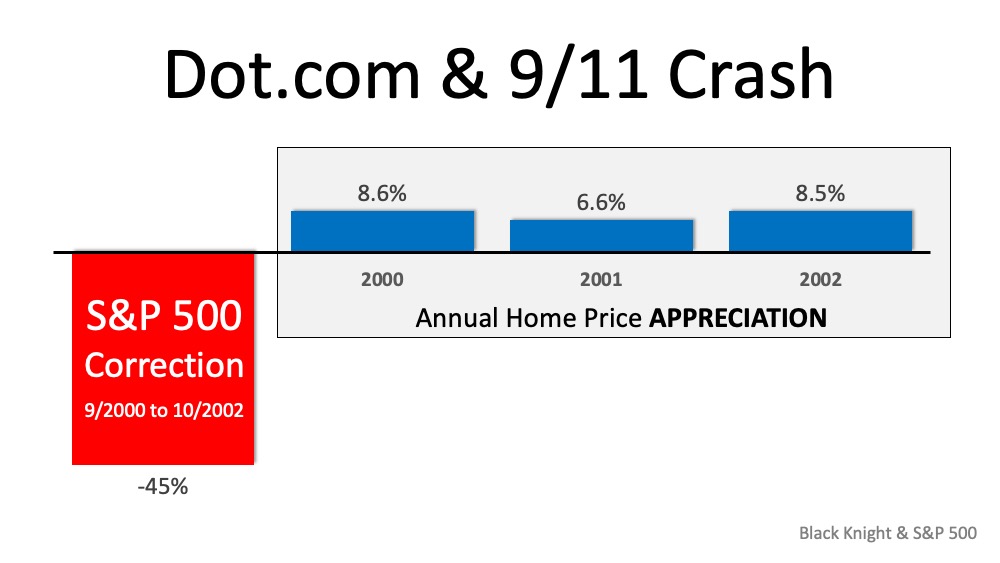 The S&P dropped 45% between September 2000 and October 2002. Home prices, on the other hand, appreciated nicely at the same time. That stock market correction proved not to have any negative impact on home values.
Bottom Line
If the current situation is more like the markets in the early 2000s versus the markets during the Great Recession, home values should be minimally affected, if at all.
NOW is THE time! | March, 15th 2020 | By Amanda Cash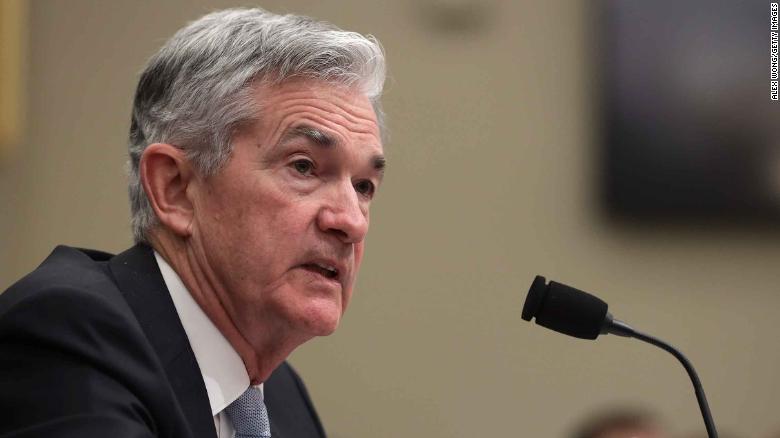 𝙸𝚏 𝚢𝚘𝚞 𝚑𝚊𝚟𝚎 𝚍𝚎𝚋𝚊𝚝𝚎𝚍 𝚘𝚗 𝚠𝚑𝚎𝚝𝚑𝚎𝚛 𝚘𝚛 𝚗𝚘𝚝 𝚝𝚘 𝚋𝚞𝚢 𝚘𝚛 𝚜𝚎𝚕𝚕 𝚢𝚘𝚞𝚛 𝚑𝚘𝚖𝚎. 𝒯𝒽𝑒 𝒹𝑒𝒷𝒶𝓉𝑒 𝒾𝓈 𝑜𝓋𝑒𝓇!
𝙽𝚘𝚠 𝚒𝚜 𝚃𝙷𝙴 𝚝𝚒𝚖𝚎! 𝚆𝚎 𝚍𝚘 𝚗𝚘𝚝 𝚔𝚗𝚘𝚠 𝚑𝚘𝚠 𝚕𝚘𝚗𝚐 𝚝𝚑𝚒𝚜 𝚠𝚒𝚕𝚕 𝚕𝚊𝚜𝚝 𝚋𝚞𝚝 𝚠𝚑𝚒𝚕𝚎 𝚒𝚝 𝚒𝚜 𝚒𝚗 𝚖𝚘𝚝𝚒𝚘𝚗 𝚝𝚊𝚔𝚎 𝚏𝚞𝚕𝚕 𝚊𝚍𝚟𝚊𝚗𝚝𝚊𝚐𝚎 𝚠𝚑𝚒𝚕𝚎 𝚢𝚘𝚞 𝚌𝚊𝚗. 𝘔𝘰𝘳𝘵𝘨𝘢𝘨𝘦 𝘳𝘢𝘵𝘦𝘴 𝘩𝘢𝘷𝘦 𝘣𝘦𝘦𝘯 𝘢𝘵 𝘴𝘵𝘦𝘢𝘥𝘺 𝘭𝘰𝘸 𝘳𝘢𝘵𝘦𝘴 𝘧𝘰𝘳 𝘴𝘰𝘮𝘦𝘵𝘪𝘮𝘦. 𝘕𝘰𝘸 𝘸𝘪𝘵𝘩 𝘵𝘩𝘪𝘴 𝘯𝘦𝘸 𝘤𝘩𝘢𝘯𝘨𝘦 𝘪𝘯 𝘰𝘶𝘳 𝘦𝘤𝘰𝘯𝘰𝘮𝘺 𝘵𝘩𝘦𝘺 𝘤𝘰𝘶𝘭𝘥 𝘥𝘳𝘰𝘱 𝘦𝘷𝘦𝘯 𝘧𝘶𝘳𝘵𝘩𝘦𝘳. 𝘞𝘦 𝘸𝘪𝘭𝘭 𝘴𝘦𝘦 𝘪𝘯 𝘵𝘩𝘦 𝘤𝘰𝘮𝘪𝘯𝘨 𝘥𝘢𝘺𝘴 𝘢𝘩𝘦𝘢𝘥 𝘸𝘩𝘢𝘵 𝘰𝘶𝘳 𝘤𝘰𝘯𝘴𝘶𝘮𝘦𝘳 𝘳𝘢𝘵𝘦𝘴 𝘸𝘪𝘭𝘭 𝘥𝘰. 𝙼𝚒𝚜𝚜𝚘𝚞𝚛𝚒𝚊𝚗𝚜 𝚊𝚗𝚍 𝙺𝚊𝚗𝚜𝚊𝚗𝚜 𝚐𝚒𝚟𝚎 𝙰𝚖𝚊𝚗𝚍𝚊 𝙲𝚊𝚜𝚑 𝚊 𝚌𝚊𝚕𝚕 𝚊𝚝 816-405-8711 𝚘𝚛 𝚎𝚖𝚊𝚒𝚕 𝚑𝚎𝚛 𝚗𝚘𝚠 𝚝𝚘 𝚐𝚎𝚝 𝚝𝚑𝚒𝚗𝚐𝚜 𝚖𝚘𝚟𝚒𝚗𝚐!
𝘾𝙡𝙞𝙘𝙠 𝘣𝘦𝘭𝘰𝘸 𝙛𝙤𝙧 𝙢𝙤𝙧𝙚 𝙞𝙣𝙛𝙤:
𝙁𝙚𝙙𝙚𝙧𝙖𝙡 𝙍𝙚𝙨𝙚𝙧𝙫𝙚 𝙘𝙪𝙩𝙨 𝙧𝙖𝙩𝙚𝙨 𝙩𝙤 𝙕𝙀𝙍𝙊!
ℂ𝕠𝕣𝕠𝕟𝕒𝕍𝕚𝕣𝕦𝕤... | March 14th, 2020 | By Amanda Cash
𝒪𝓊𝓇 𝓌𝑜𝓇𝓁𝒹 𝒾𝓈 𝒷𝑒𝒾𝓃𝑔 𝓉𝓊𝓇𝓃𝑒𝒹 𝓊𝓅𝓈𝒾𝒹𝑒 𝒹𝑜𝓌𝓃 𝓇𝒾𝑔𝒽𝓉 𝓃𝑜𝓌 𝓌𝒾𝓉𝒽 𝑒𝓋𝑒𝓇𝓎𝓉𝒽𝒾𝓃𝑔 𝑔𝑜𝒾𝓃𝑔 𝑜𝓃 𝓌𝒾𝓉𝒽 𝓉𝒽𝑒 𝒞𝑜𝓇𝑜𝓃𝒶𝓋𝒾𝓇𝓊𝓈. 𝒲𝑒 𝓌𝑜𝓃𝒹𝑒𝓇 𝓌𝒽𝒶𝓉 𝓉𝑜𝓂𝑜𝓇𝓇𝑜𝓌 𝒽𝑜𝓁𝒹𝓈 𝒻𝑜𝓇 𝓊𝓈 𝒶𝓁𝓁. 𝐌𝐲 𝐟𝐚𝐦𝐢𝐥𝐲 𝐢𝐬 𝐨𝐯𝐞𝐫𝐚𝐥𝐥 𝐩𝐫𝐞𝐭𝐭𝐲 𝐡𝐞𝐚𝐥𝐭𝐡𝐲. 𝐈 𝐡𝐨𝐰𝐞𝐯𝐞𝐫 𝐝𝐨 𝐧𝐨𝐭 𝐡𝐚𝐯𝐞 𝐭𝐡𝐞 𝐬𝐭𝐫𝐨𝐧𝐠𝐞𝐬𝐭 𝐢𝐦𝐦𝐮𝐧𝐞 𝐬𝐲𝐬𝐭𝐞𝐦 𝐰𝐡𝐞𝐧 𝐜𝐨𝐦𝐩𝐚𝐫𝐢𝐧𝐠 𝐭𝐨 𝐭𝐡𝐞 𝐚𝐯𝐞𝐫𝐚𝐠𝐞 𝐩𝐞𝐫𝐬𝐨𝐧 𝐦𝐲 𝐚𝐠𝐞. 𝐁𝐮𝐭 𝐰𝐢𝐭𝐡 𝐭𝐡𝐚𝐭 𝐬𝐚𝐢𝐝, 𝐈 𝐚𝐦 𝐨𝐯𝐞𝐫𝐚𝐥𝐥 𝐡𝐞𝐚𝐥𝐭𝐡𝐲 & 𝐈 𝐚𝐥𝐬𝐨 𝐤𝐧𝐨𝐰 𝐦𝐚𝐧𝐲 𝐨𝐭𝐡𝐞𝐫𝐬 𝐰𝐡𝐨 𝐡𝐚𝐯𝐞 𝐚𝐧 𝐢𝐦𝐦𝐮𝐧𝐞 𝐬𝐲𝐬𝐭𝐞𝐦 𝐦𝐮𝐜𝐡 𝐰𝐞𝐚𝐤𝐞𝐫 𝐭𝐡𝐚𝐧 𝐦𝐢𝐧𝐞. 𝐈 𝐚𝐦 𝐠𝐫𝐚𝐭𝐞𝐟𝐮𝐥 𝐟𝐨𝐫 𝐦𝐲 𝐡𝐞𝐚𝐥𝐭𝐡. 𝐈 𝐚𝐦 𝐭𝐡𝐞 𝐭𝐲𝐩𝐞 𝐨𝐟 𝐩𝐞𝐫𝐬𝐨𝐧 𝐰𝐡𝐨 𝐚𝐥𝐰𝐚𝐲𝐬 𝐭𝐫𝐢𝐞𝐬 𝐭𝐨 𝐥𝐨𝐨𝐤 𝐚𝐭 𝐭𝐡𝐞 𝐠𝐥𝐚𝐬𝐬 𝐚𝐬 𝐡𝐚𝐥𝐟 𝐟𝐮𝐥𝐥 𝐚𝐧𝐝 𝐧𝐨𝐭 𝐡𝐚𝐥𝐟 𝐞𝐦𝐩𝐭𝐲. 𝐀𝐧𝐝 𝐭𝐡𝐚𝐭 𝐢𝐬 𝐰𝐡𝐞𝐫𝐞 𝐈 𝐚𝐦 𝐠𝐨𝐢𝐧𝐠 𝐧𝐞𝐱𝐭.
𝚈𝚎𝚜, 𝙸 𝚍𝚘 𝟷𝟶𝟶% 𝚊𝚐𝚛𝚎𝚎 𝚝𝚑𝚊𝚝 𝚒𝚝 𝚒𝚜 𝚜𝚘𝚖𝚎𝚝𝚑𝚒𝚗𝚐 𝚠𝚎 𝚜𝚑𝚘𝚞𝚕𝚍 𝙰𝙻𝙻 𝚋𝚎 𝚌𝚊𝚞𝚝𝚒𝚘𝚞𝚜 𝚘𝚏. 𝚈𝚎𝚜, 𝚒𝚝 𝚒𝚜 𝚜𝚌𝚊𝚛𝚢 𝚝𝚑𝚎 𝚕𝚒𝚟𝚎𝚜 𝚝𝚑𝚊𝚝 𝚑𝚊𝚟𝚎 𝚋𝚎𝚎𝚗 𝚝𝚊𝚔𝚎𝚗 𝚠𝚘𝚛𝚕𝚍𝚠𝚒𝚍𝚎. 𝚆𝚎 𝚜𝚑𝚘𝚞𝚕𝚍 𝚍𝚘 𝚎𝚟𝚎𝚛𝚢𝚝𝚑𝚒𝚗𝚐 𝚠𝚎 𝚌𝚊𝚗 𝚝𝚘 𝚠𝚊𝚜𝚑 𝚘𝚞𝚛 𝚑𝚊𝚗𝚍𝚜 𝚖𝚘𝚛𝚎 𝚘𝚏𝚝𝚎𝚗, 𝚍𝚒𝚜𝚒𝚗𝚏𝚎𝚌𝚝 𝚝𝚑𝚘𝚜𝚎 𝚜𝚑𝚘𝚙𝚙𝚒𝚗𝚐 𝚌𝚊𝚛𝚝𝚜, 𝚠𝚒𝚙𝚎 𝚍𝚘𝚠𝚗 𝚢𝚘𝚞𝚛 𝚝𝚊𝚋𝚕𝚎𝚜, 𝚢𝚘𝚞𝚛 𝚍𝚘𝚘𝚛𝚔𝚗𝚘𝚋𝚜, 𝚠𝚊𝚜𝚑 𝚘𝚞𝚛 𝚑𝚊𝚗𝚍𝚜, 𝚊𝚟𝚘𝚒𝚍 𝚑𝚊𝚗𝚍𝚜𝚑𝚊𝚔𝚎𝚜 𝚊𝚜 𝚖𝚞𝚌𝚑 𝚊𝚜 𝚙𝚘𝚜𝚜𝚒𝚋𝚕𝚎, 𝚍𝚒𝚍 𝙸 𝚜𝚊𝚢 𝚠𝚊𝚜𝚑 OUR 𝚑𝚊𝚗𝚍𝚜? 𝙸𝚏 YOU 𝚊𝚛𝚎 𝚜𝚒𝚌𝚔 𝚍𝚘 𝚗𝚘𝚝 𝚐𝚘 𝚘𝚞𝚝 𝚒𝚗 𝚙𝚞𝚋𝚕𝚒𝚌, 𝚒𝚏 𝚢𝚘𝚞 𝚑𝚊𝚟𝚎 𝚊 𝚠𝚎𝚎𝚔 𝚒𝚖𝚖𝚞𝚗𝚎 𝚜𝚢𝚜𝚝𝚎𝚖 𝚜𝚝𝚊𝚢 𝚑𝚘𝚖𝚎 𝚙𝚕𝚎𝚊𝚜𝚎. 𝙾𝚞𝚛 𝚎𝚕𝚍𝚎𝚛𝚕𝚢 & 𝚜𝚒𝚌𝚔 𝚏𝚛𝚒𝚎𝚗𝚍𝚜 𝚊𝚗𝚍 𝚏𝚊𝚖𝚒𝚕𝚢 𝚗𝚎𝚎𝚍 𝚞𝚜 𝚗𝚘𝚠 𝚖𝚘𝚛𝚎 𝚝𝚑𝚊𝚗 𝚎𝚟𝚎𝚛. 𝙰𝚜𝚔 𝚜𝚘𝚖𝚎𝚘𝚗𝚎 𝚝𝚘 𝚕𝚎𝚗𝚍 𝚊 𝚑𝚊𝚗𝚍 𝚒𝚗 𝚐𝚎𝚝𝚝𝚒𝚗𝚐 𝚢𝚘𝚞 𝚝𝚑𝚎 𝚃𝚢𝚕𝚎𝚗𝚘𝚕 𝚘𝚛 𝚌𝚘𝚞𝚐𝚑 𝚍𝚛𝚘𝚙𝚜. 𝙸𝚏 𝚢𝚘𝚞 𝚍𝚘 𝚋𝚎𝚕𝚒𝚎𝚟𝚎 𝚢𝚘𝚞 𝚑𝚊𝚟𝚎 𝚝𝚑𝚒𝚜 𝚟𝚒𝚛𝚞𝚜, 𝚐𝚘 𝚐𝚎𝚝 𝚝𝚎𝚜𝚝𝚎𝚍! 𝙸 𝚛𝚎𝚙𝚎𝚊𝚝 𝚐𝚘 𝚐𝚎𝚝 𝚝𝚎𝚜𝚝𝚎𝚍! 𝙸𝚝 𝚒𝚜 𝚖𝚞𝚌𝚑 𝚋𝚎𝚝𝚝𝚎𝚛 𝚝𝚘 𝚋𝚎 𝚜𝚊𝚏𝚎 𝚝𝚑𝚊𝚗 𝚜𝚘𝚛𝚛𝚢. 𝙱𝚞𝚝 𝚝𝚑𝚒𝚜 𝚒𝚜 𝚟𝚎𝚛𝚢 𝚒𝚖𝚙𝚘𝚛𝚝𝚊𝚗𝚝, 𝚢𝚘𝚞 𝚖𝚞𝚜𝚝 𝚔𝚎𝚎𝚙 𝚕𝚒𝚟𝚒𝚗𝚐 𝚢𝚘𝚞𝚛 𝚕𝚒𝚏𝚎. 𝙸𝚏 𝚠𝚎 𝚜𝚝𝚊𝚛𝚝 𝚕𝚒𝚟𝚒𝚗𝚐 𝚒𝚗 𝚏𝚎𝚊𝚛, 𝚝𝚑𝚎𝚗 𝚠𝚎 𝚜𝚝𝚘𝚙 𝚕𝚒𝚟𝚒𝚗𝚐. 𝙳𝚘 𝚠𝚎 𝚠𝚊𝚗𝚝 𝚝𝚘 𝚕𝚒𝚟𝚎 𝚒𝚗 𝚊 𝚠𝚘𝚛𝚕𝚍 𝚘𝚏 𝚌𝚑𝚊𝚘𝚜? 𝙽𝚘. 𝙰𝚝 𝚕𝚎𝚊𝚜𝚝 𝚝𝚑𝚊𝚝 𝚒𝚜 𝚗𝚘𝚝 𝚑𝚘𝚠 𝙸 𝚠𝚊𝚗𝚝 𝚝𝚘 𝚕𝚒𝚟𝚎, 𝚝𝚑𝚊𝚝 𝚒𝚜 𝚗𝚘𝚝 𝙰𝚖𝚎𝚛𝚒𝚌𝚊. We all are in this together and that is how we will make it through this too.
𝐈 𝐚𝐦 𝐬𝐭𝐢𝐥𝐥 "currently" 𝐠𝐨𝐢𝐧𝐠 𝐨𝐧 𝐥𝐢𝐬𝐭𝐢𝐧𝐠 𝐚𝐩𝐩𝐨𝐢𝐧𝐭𝐦𝐞𝐧𝐭𝐬 𝐰𝐢𝐭𝐡 𝐦𝐲 𝐬𝐞𝐥𝐥𝐞𝐫𝐬. 𝐘𝐞𝐬, 𝐈 𝐚𝐦 𝐬𝐭𝐢𝐥𝐥 𝐬𝐡𝐨𝐰𝐢𝐧𝐠 𝐡𝐨𝐦𝐞𝐬 𝐭𝐨 𝐦𝐲 𝐛𝐮𝐲𝐞𝐫𝐬. This may change in time but, for now. I will keep working, loving what I do, helping others.. BUT with extreme caution.
𝐍𝐨𝐰, 𝐢𝐟 𝐰𝐞 𝐚𝐥𝐥 𝐚𝐫𝐞 𝐟𝐨𝐫𝐜𝐞𝐝 𝐭𝐨 𝐛𝐞 𝐪𝐮𝐚𝐫𝐚𝐧𝐭𝐢𝐧𝐞𝐝 𝐭𝐨 𝐨𝐮𝐫 𝐡𝐨𝐦𝐞𝐬, 𝐭𝐡𝐞𝐧 𝓂𝒶𝓀𝑒 𝓉𝒽𝑒 𝓂𝑜𝓈𝓉 𝑜𝒻 𝒾𝓉! 𝐄𝐧𝐣𝐨𝐲 𝐭𝐡𝐚𝐭 𝐭𝐢𝐦𝐞 𝐰𝐢𝐭𝐡 𝐲𝐨𝐮𝐫 𝐟𝐚𝐦𝐢𝐥𝐲 𝐚𝐧𝐝 𝐩𝐞𝐭𝐬, 𝐟𝐢𝐧𝐢𝐬𝐡 𝐬𝐨𝐦𝐞 𝐩𝐫𝐨𝐣𝐞𝐜𝐭𝐬 𝐚𝐫𝐨𝐮𝐧𝐝 𝐭𝐡𝐞 𝐡𝐨𝐮𝐬𝐞, 𝐛𝐢𝐧𝐠𝐞 𝐰𝐚𝐭𝐜𝐡 𝐲𝐨𝐮𝐫 𝐟𝐚𝐯𝐨𝐫𝐢𝐭𝐞 𝐬𝐡𝐨𝐰, 𝐩𝐥𝐚𝐲 𝐬𝐨𝐦𝐞 𝐛𝐨𝐚𝐫𝐝 𝐠𝐚𝐦𝐞𝐬, 𝐠𝐞𝐭 𝐭𝐨 𝐤𝐧𝐨𝐰 𝐲𝐨𝐮𝐫𝐬𝐞𝐥𝐟 𝐚𝐧𝐝 𝐨𝐧𝐞 𝐚𝐧𝐨𝐭𝐡𝐞𝐫 𝐨𝐧 𝐚 𝐧𝐞𝐰 𝐥𝐞𝐯𝐞𝐥. Make smart & safe decisions! 𝐖𝐞 𝐰𝐢𝐥𝐥 𝐛𝐞 𝐟𝐢𝐧𝐞, 𝐰𝐞 𝐡𝐚𝐯𝐞 𝐞𝐚𝐜𝐡 𝐨𝐭𝐡𝐞𝐫 & 𝐰𝐞 𝐡𝐚𝐯𝐞 𝐩𝐥𝐞𝐧𝐭𝐲 𝐨𝐟 𝐟𝐨𝐨𝐝 𝐰𝐞 𝐜𝐚𝐧 𝐦𝐚𝐤𝐞 𝐝𝐨 𝐰𝐢𝐭𝐡. 𝐈 𝐡𝐨𝐩𝐞 𝐲𝐨𝐮 𝐰𝐢𝐥𝐥 𝐛𝐞 𝐟𝐢𝐧𝐞 𝐭𝐨𝐨! 𝒲𝒽𝑒𝓃 𝓌𝑒 𝒸𝑜𝓂𝑒 𝓉𝑜𝑔𝑒𝓉𝒽𝑒𝓇, 𝓌𝑒 𝒸𝑜𝓃𝓆𝓊𝑒𝓇 𝒾𝓃 𝒶 𝓅𝑜𝓈𝒾𝓉𝒾𝓋𝑒 𝓁𝒾𝑔𝒽𝓉. 𝒲𝒽𝑒𝓃 𝓌𝑒 𝒸𝑜𝓂𝓅𝑒𝓉𝑒 𝒻𝑜𝓇 𝓉𝒽𝑒 𝓁𝒶𝓈𝓉 𝓇𝑜𝓁𝓁 𝑜𝒻 𝓉𝑜𝒾𝓁𝑒𝓉 𝓅𝒶𝓅𝑒𝓇 𝓌𝑒 𝒶𝓇𝑒 𝒾𝓃 𝓁𝑜𝓈𝑒-𝓁𝑜𝓈𝑒 𝒻𝒾𝑔𝒽𝓉. 𝐁𝐲 𝐭𝐡𝐞 𝐰𝐚𝐲 𝐭𝐡𝐞𝐫𝐞 𝐫𝐞𝐚𝐥𝐥𝐲 𝐚𝐫𝐞 𝐩𝐞𝐨𝐩𝐥𝐞 𝐰𝐡𝐨 𝐫𝐚𝐧 𝐨𝐮𝐭 𝐨𝐟 𝐭𝐨𝐢𝐥𝐞𝐭 𝐩𝐚𝐩𝐞𝐫. 𝐈 𝐣𝐮𝐬𝐭 𝐡𝐞𝐚𝐫𝐝 𝐭𝐡𝐚𝐭 𝐂𝐨𝐬𝐭𝐜𝐨 𝐡𝐚𝐬 𝐫𝐞𝐬𝐭𝐨𝐜𝐤𝐞𝐝 𝐟𝐨𝐫 𝐭𝐡𝐨𝐬𝐞 𝐢𝐧 𝐧𝐞𝐞𝐝!
𝙸𝚗 𝚌𝚘𝚗𝚌𝚕𝚞𝚜𝚒𝚘𝚗:
𝚆𝚊𝚜𝚑 𝚢𝚘𝚞𝚛 𝚑𝚊𝚗𝚍𝚜...
𝙸𝚏 𝚢𝚘𝚞 𝚝𝚑𝚒𝚗𝚔 𝚢𝚘𝚞 𝚑𝚊𝚟𝚎 𝚝𝚑𝚒𝚜 𝚟𝚒𝚛𝚞𝚜 STAY HOME & PLEASE QUARANTINE!
𝔸𝕤𝕜 𝕗𝕠𝕣 𝕙𝕖𝕝𝕡...
𝚂𝚑𝚊𝚛𝚎 𝚝𝚑𝚎 𝚝𝚘𝚒𝚕𝚎𝚝 𝚙𝚊𝚙𝚎𝚛...
𝙺𝚎𝚎𝚙 𝚕𝚒𝚟𝚒𝚗𝚐 𝚢𝚘𝚞𝚛 𝚕𝚒𝚏𝚎!
For more info on Coronavirus CLICK HERE
First blog entry ever... | January 1st, 2020 | By Amanda Cash
𝐺𝑜𝑜𝑑𝑏𝑦𝑒 2019 & 𝐻𝑒𝑙𝑙𝑜 2020 🥳🥳🥳
𝑬𝒗𝒆𝒓𝒚 𝒚𝒆𝒂𝒓 𝒀𝑶𝑼 𝒍𝒆𝒂𝒓𝒏 𝒏𝒆𝒘 𝒕𝒉𝒊𝒏𝒈𝒔. 𝒀𝑶𝑼 𝒎𝒂𝒌𝒆 𝒏𝒆𝒘 𝒎𝒊𝒔𝒕𝒂𝒌𝒆𝒔. 𝑨𝒏𝒅 𝒉𝒐𝒑𝒆𝒇𝒖𝒍𝒍𝒚 𝒀𝑶𝑼 𝒈𝒓𝒐𝒘 𝒇𝒓𝒐𝒎 𝒊𝒕 𝒂𝒍𝒍! 𝒀𝑶𝑼 𝒄𝒂𝒏'𝒕 𝒍𝒆𝒕 𝒚𝒆𝒔𝒕𝒆𝒓𝒅𝒂𝒚 𝒄𝒐𝒏𝒕𝒓𝒐𝒍 𝒘𝒉𝒂𝒕 𝒕𝒐𝒎𝒐𝒓𝒓𝒐𝒘 𝒊𝒔 𝒎𝒆𝒂𝒏𝒕 𝒕𝒐 𝒃𝒆.
𝑀𝑦 𝑙𝑖𝑓𝑒 𝑖𝑠 𝑓𝑎𝑟 𝑓𝑟𝑜𝑚 𝑝𝑒𝑟𝑓𝑒𝑐𝑡. 𝑀𝑦 𝑚𝑎𝑟𝑟𝑖𝑎𝑔𝑒...𝑛𝑜𝑡 𝑝𝑒𝑟𝑓𝑒𝑐𝑡...𝑚𝑦 𝑘𝑖𝑑𝑠 𝑛𝑜𝑡 𝑝𝑒𝑟𝑓𝑒𝑐𝑡...𝑚𝑦 𝑐𝑎𝑟𝑒𝑒𝑟 𝑛𝑜𝑡 𝑝𝑒𝑟𝑓𝑒𝑐𝑡...𝑚𝑦 𝑓𝑎𝑚𝑖𝑙𝑦 & 𝑓𝑟𝑖𝑒𝑛𝑑𝑠 𝑛𝑜𝑡 𝑝𝑒𝑟𝑓𝑒𝑐𝑡...𝑚𝑦 𝑡ℎ𝑜𝑢𝑔ℎ𝑡𝑠 𝑎𝑛𝑑 𝑐ℎ𝑜𝑖𝑐𝑒𝑠 𝑛𝑜𝑡 𝑝𝑒𝑟𝑓𝑒𝑐𝑡...𝑖𝑡'𝑠 𝑎𝑙𝑙 𝑎 𝑤𝑜𝑟𝑘 𝑖𝑛 𝑝𝑟𝑜𝑔𝑟𝑒𝑠𝑠 𝑎𝑛𝑑 𝐼 𝑎𝑚 𝑎𝑐𝑐𝑒𝑝𝑡𝑖𝑛𝑔 𝑜𝑓 𝑡ℎ𝑎𝑡!
𝑳𝒊𝒇𝒆 𝒊𝒔 𝒂 𝒋𝒐𝒖𝒓𝒏𝒆𝒚, 𝒊𝒕 𝒊𝒔 𝒏𝒐𝒕 𝒂 𝒄𝒐𝒎𝒑𝒆𝒕𝒊𝒕𝒊𝒐𝒏. 𝑺𝒖𝒄𝒄𝒆𝒔𝒔 𝒊𝒔 𝒏𝒐𝒕 𝒎𝒆𝒂𝒔𝒖𝒓𝒆𝒅 𝒃𝒚 𝒘𝒉𝒂𝒕 𝒚𝒐𝒖 𝒅𝒐. 𝑰𝒕 𝒔𝒊𝒎𝒑𝒍𝒚 𝒊𝒔 𝒘𝒉𝒐 𝒚𝒐𝒖 𝒂𝒓𝒆!
𝑶𝒖𝒓 𝒑𝒂𝒕𝒉𝒔 𝒘𝒊𝒍𝒍 𝒄𝒓𝒐𝒔𝒔 𝒕𝒐 𝒎𝒆𝒆𝒕 𝒏𝒆𝒘 𝒇𝒂𝒄𝒆𝒔 & 𝒕𝒉𝒆𝒓𝒆 𝒘𝒊𝒍𝒍 𝒃𝒆 𝒕𝒊𝒎𝒆𝒔 𝒘𝒆 𝒔𝒂𝒚 𝒈𝒐𝒐𝒅𝒃𝒚𝒆 𝒕𝒐 𝒐𝒍𝒅 𝒇𝒂𝒄𝒆𝒔. 𝑮𝒐𝒐𝒅𝒃𝒚𝒆𝒔 𝒄𝒂𝒏 𝒃𝒆 𝒉𝒂𝒓𝒅, 𝒂𝒄𝒕𝒖𝒂𝒍𝒍𝒚 𝒍𝒆𝒕𝒔 𝒃𝒆 𝒉𝒐𝒏𝒆𝒔𝒕 𝒕𝒉𝒆𝒚 𝒄𝒂𝒏 𝒃𝒆 𝒓𝒆𝒂𝒍𝒍𝒚 𝒓𝒆𝒂𝒍𝒍𝒚 𝒉𝒂𝒓𝒅!
𝑻𝒆𝒍𝒍𝒊𝒏𝒈 𝒐𝒕𝒉𝒆𝒓𝒔 𝒀𝑶𝑼 𝒂𝒑𝒑𝒓𝒆𝒄𝒊𝒂𝒕𝒆 𝒕𝒉𝒆𝒎 𝒂𝒏𝒅 𝒕𝒉𝒂𝒕 𝒀𝑶𝑼 𝒄𝒂𝒓𝒆 𝒇𝒐𝒓 𝒕𝒉𝒆𝒎 𝒄𝒂𝒏 𝒎𝒂𝒌𝒆 𝒂𝒍𝒍 𝒕𝒉𝒆 𝒅𝒊𝒇𝒇𝒆𝒓𝒆𝒏𝒄𝒆 𝒊𝒏 𝒉𝒐𝒘 𝒕𝒉𝒆𝒊𝒓 𝒅𝒂𝒚 𝒆𝒏𝒅𝒔. 𝑸𝒖𝒊𝒕𝒆 𝒍𝒊𝒕𝒆𝒓𝒂𝒍𝒍𝒚 𝒐𝒓 𝒇𝒊𝒈𝒖𝒓𝒂𝒕𝒊𝒗𝒆𝒍𝒚. 𝑬𝒗𝒆𝒓𝒚 40 𝒔𝒆𝒄𝒐𝒏𝒅𝒔 𝒔𝒐𝒎𝒆𝒐𝒏𝒆 𝒕𝒂𝒌𝒆𝒔 𝒕𝒉𝒆𝒊𝒓 𝒍𝒊𝒇𝒆. 𝑺𝒐𝒎𝒆𝒕𝒊𝒎𝒆𝒔 𝒊𝒕 𝒄𝒂𝒏'𝒕 𝒃𝒆 𝒄𝒉𝒂𝒏𝒈𝒆𝒅 𝒃𝒖𝒕 𝒘𝒉𝒂𝒕 𝒊𝒇 𝒊𝒕 𝒄𝒂𝒏?? 𝑾𝒉𝒂𝒕 𝒊𝒇 𝒀𝑶𝑼 𝒄𝒂𝒏 𝒔𝒂𝒗𝒆 𝒂 𝒍𝒊𝒇𝒆, 𝒘𝒐𝒖𝒍𝒅 𝒀𝑶𝑼? 𝑨 𝒇𝒆𝒘 𝒕𝒊𝒑𝒔 𝒕𝒉𝒂𝒕 𝒘𝒆 𝒄𝒂𝒏 𝒂𝒍𝒍 𝒅𝒐 𝒎𝒐𝒓𝒆 𝒐𝒇...
𝐴. 𝐴𝑐𝑡𝑠 𝑜𝑓 𝑘𝑖𝑛𝑑𝑛𝑒𝑠𝑠
𝐵. 𝐵𝑢𝑖𝑙𝑑𝑖𝑛𝑔 𝑜𝑡ℎ𝑒𝑟𝑠 𝑢𝑝
𝐶. 𝐶𝑎𝑟𝑖𝑛𝑔 𝑏𝑦 𝑠𝑚𝑖𝑙𝑖𝑛𝑔
𝑳𝒊𝒇𝒆 𝒊𝒔 𝒕𝒐𝒐 𝒔𝒉𝒐𝒓𝒕 𝒕𝒐 𝒏𝒐𝒕 𝒃𝒆 𝒉𝒂𝒑𝒑𝒚. 𝑰𝒇 𝒀𝑶𝑼 𝒂𝒓𝒆𝒏'𝒕 𝒉𝒂𝒑𝒑𝒚 𝒘𝒊𝒕𝒉 𝒘𝒉𝒐 𝒀𝑶𝑼 𝒂𝒓𝒆, 𝒘𝒉𝒐 𝒀𝑶𝑼 𝒂𝒓𝒆 𝒘𝒊𝒕𝒉, 𝒘𝒉𝒆𝒓𝒆 𝒀𝑶𝑼 𝒍𝒊𝒗𝒆 𝒐𝒓 𝒘𝒉𝒐 𝒀𝑶𝑼 𝒂𝒓𝒆 𝒃𝒆𝒄𝒐𝒎𝒊𝒏𝒈, 𝒄𝒉𝒂𝒏𝒈𝒆 𝒊𝒕!
𝑰 𝒂𝒎 𝒍𝒆𝒂𝒓𝒏𝒊𝒏𝒈 𝒕𝒉𝒂𝒕 𝒏𝒐𝒕 𝒆𝒗𝒆𝒓𝒚𝒐𝒏𝒆 𝒅𝒆𝒔𝒆𝒓𝒗𝒆𝒔 𝒚𝒐𝒖𝒓 𝒕𝒊𝒎𝒆 𝒂𝒏𝒅 𝒆𝒏𝒆𝒓𝒈𝒚. 𝒀𝑶𝑼 𝒄𝒂𝒏 𝒈𝒊𝒗𝒆 𝒆𝒗𝒆𝒓𝒚𝒕𝒉𝒊𝒏𝒈 𝒀𝑶𝑼 𝒉𝒂𝒗𝒆 𝒕𝒐 𝒔𝒐𝒎𝒆 𝒂𝒏𝒅 𝒕𝒉𝒆𝒚 𝒘𝒊𝒍𝒍 𝒔𝒕𝒊𝒍𝒍 𝒇𝒊𝒏𝒅 𝒂 𝒘𝒂𝒚 𝒕𝒐 𝒕𝒂𝒌𝒆 𝒆𝒗𝒆𝒏 𝒎𝒐𝒓𝒆. 𝑻𝒉𝒆𝒓𝒆 𝒂𝒓𝒆 𝒈𝒊𝒗𝒆𝒓𝒔 𝒂𝒏𝒅 𝒕𝒂𝒌𝒆𝒓𝒔. 𝑻𝒉𝒆 𝒕𝒂𝒌𝒆𝒓𝒔 𝒆𝒂𝒕 𝒃𝒆𝒕𝒕𝒆𝒓, 𝒕𝒉𝒆 𝒈𝒊𝒗𝒆𝒓𝒔 𝒔𝒍𝒆𝒆𝒑 𝒃𝒆𝒕𝒕𝒆𝒓 𝒂𝒕 𝒏𝒊𝒈𝒉𝒕. 𝑵𝒐𝒕 𝒆𝒗𝒆𝒓𝒚𝒐𝒏𝒆 𝒉𝒂𝒔 𝒈𝒐𝒐𝒅 𝒊𝒏𝒕𝒆𝒏𝒕𝒊𝒐𝒏𝒔 𝒇𝒐𝒓 𝒀𝑶𝑼 𝒐𝒓 𝒐𝒕𝒉𝒆𝒓𝒔 𝒂𝒓𝒐𝒖𝒏𝒅 𝒕𝒉𝒆𝒎. 𝑻𝒉𝒆𝒓𝒆 𝒂𝒓𝒆 𝒕𝒉𝒐𝒔𝒆 𝒘𝒉𝒐 𝒂𝒓𝒆 𝒕𝒉𝒆𝒓𝒆 𝒇𝒐𝒓 𝒚𝒐𝒖 𝒂𝒏𝒅 𝒕𝒉𝒆𝒓𝒆 𝒂𝒓𝒆 𝒕𝒉𝒐𝒔𝒆 𝒘𝒉𝒐 𝒂𝒓𝒆 𝒐𝒏𝒍𝒚 𝒕𝒉𝒆𝒓𝒆 𝒇𝒐𝒓 𝒕𝒉𝒆𝒎𝒔𝒆𝒍𝒗𝒆𝒔. 𝑲𝒆𝒆𝒑𝒊𝒏𝒈 𝒑𝒐𝒔𝒊𝒕𝒊𝒗𝒆 𝒃𝒚 𝒌𝒏𝒐𝒘𝒊𝒏𝒈 𝒕𝒉𝒆𝒓𝒆 𝒂𝒓𝒆 𝒔𝒐 𝒎𝒂𝒏𝒚 𝒈𝒐𝒐𝒅 𝒑𝒆𝒐𝒑𝒍𝒆 𝒐𝒖𝒕 𝒕𝒉𝒆𝒓𝒆 𝒘𝒉𝒐 𝒍𝒐𝒗𝒆 & 𝒂𝒑𝒑𝒓𝒆𝒄𝒊𝒂𝒕𝒆 𝒚𝒐𝒖!
𝑱𝒖𝒔𝒕 𝒃𝒆𝒄𝒂𝒖𝒔𝒆 𝒀𝑶𝑼 𝒅𝒐 𝒏𝒐𝒕 𝒐𝒘𝒆 𝒔𝒐𝒎𝒆𝒐𝒏𝒆 𝒚𝒐𝒖𝒓 𝒕𝒊𝒎𝒆 𝒂𝒏𝒅 𝒆𝒏𝒆𝒓𝒈𝒚 𝒅𝒐𝒆𝒔𝒏'𝒕 𝒎𝒆𝒂𝒏 𝒀𝑶𝑼 𝒎𝒖𝒔𝒕 𝒄𝒉𝒂𝒏𝒈𝒆 𝒘𝒉𝒐 𝒀𝑶𝑼 𝒂𝒓𝒆 𝒊𝒏𝒔𝒊𝒅𝒆. 𝒀𝒐𝒖 𝒄𝒂𝒏 𝒔𝒕𝒊𝒍𝒍 𝒃𝒆 𝒀𝑶𝑼... 𝒕𝒉𝒆 𝒔𝒂𝒎𝒆 𝒓𝒆𝒂𝒍, 𝒉𝒐𝒏𝒆𝒔𝒕 & 𝒈𝒓𝒂𝒕𝒆𝒇𝒖𝒍 𝒀𝑶𝑼.
𝒀𝑶𝑼 𝒅𝒐𝒏'𝒕 𝒉𝒂𝒗𝒆 𝒕𝒐 𝒔𝒂𝒚 𝒀𝑬𝑺 𝒕𝒐 𝒆𝒗𝒆𝒓𝒚𝒕𝒉𝒊𝒏𝒈. 𝑨𝒍𝒕𝒉𝒐𝒖𝒈𝒉 𝒀𝑶𝑼 𝒓𝒆𝒂𝒍𝒍𝒚 𝒘𝒂𝒏𝒕 𝒕𝒐. 𝑺𝒐𝒎𝒆𝒕𝒊𝒎𝒆𝒔 𝒊𝒕'𝒔 𝒑𝒆𝒓𝒇𝒆𝒄𝒕𝒍𝒚 𝒂𝒄𝒄𝒆𝒑𝒕𝒂𝒃𝒍𝒆 𝒕𝒐 𝒔𝒂𝒚 𝒋𝒖𝒔𝒕 𝒔𝒂𝒚 𝒏𝒐.
𝑹𝒆𝒎𝒆𝒎𝒃𝒆𝒓𝒊𝒏𝒈 𝒕𝒐 𝒑𝒖𝒕 𝒚𝒐𝒖𝒓𝒔𝒆𝒍𝒇 𝒇𝒊𝒓𝒔𝒕 𝒔𝒐𝒎𝒆𝒕𝒊𝒎𝒆𝒔 𝒔𝒐𝒖𝒏𝒅𝒔 𝒑𝒓𝒆𝒕𝒕𝒚 𝒆𝒂𝒔𝒚 𝒃𝒖𝒕 𝒄𝒂𝒏 𝒆𝒂𝒔𝒊𝒍𝒚 𝒃𝒆 𝒇𝒐𝒓𝒈𝒐𝒕𝒕𝒆𝒏 𝒘𝒉𝒆𝒏 𝒀𝑶𝑼 𝒂𝒓𝒆 𝒊𝒏 𝒕𝒉𝒆 𝒅𝒂𝒚 𝒕𝒐 𝒅𝒂𝒚 𝒓𝒐𝒖𝒕𝒊𝒏𝒆. 𝑾𝒐𝒓𝒌, 𝒌𝒊𝒅𝒔, 𝒇𝒂𝒎𝒊𝒍𝒚, 𝒇𝒓𝒊𝒆𝒏𝒅𝒔, 𝒔𝒑𝒐𝒓𝒕𝒔, 𝒃𝒊𝒓𝒕𝒉𝒅𝒂𝒚𝒔, 𝒆𝒂𝒕, 𝒄𝒍𝒆𝒂𝒏, 𝒔𝒍𝒆𝒆𝒑 💤 𝒓𝒆𝒑𝒆𝒂𝒕...
𝑊ℎ𝑎𝑡 𝑡ℎ𝑒 𝑛𝑒𝑤 𝑦𝑒𝑎𝑟 𝑏𝑟𝑖𝑛𝑔𝑠 𝑓𝑜𝑟 𝑌𝑂𝑈 𝑤𝑖𝑙𝑙 𝑑𝑒𝑝𝑒𝑛𝑑 𝑜𝑛 𝑤ℎ𝑎𝑡 𝑌𝑂𝑈 𝑏𝑟𝑖𝑛𝑔 𝑡𝑜 𝑡ℎ𝑒 𝑛𝑒𝑤 𝑦𝑒𝑎𝑟! 𝐵𝑒𝑖𝑛𝑔 𝑡ℎ𝑒 ℎ𝑒𝑎𝑙𝑡ℎ𝑖𝑒𝑠𝑡 𝑌𝑂𝑈 𝑖𝑛𝑣𝑜𝑙𝑣𝑒𝑠 𝑎𝑐𝑐𝑒𝑝𝑡𝑎𝑛𝑐𝑒, 𝑙𝑜𝑣𝑒, 𝑙𝑒𝑎𝑟𝑛𝑖𝑛𝑔 & 𝑎 𝑙𝑖𝑡𝑡𝑙𝑒 𝑐ℎ𝑎𝑛𝑔𝑒 𝑎𝑙𝑜𝑛𝑔 𝑡ℎ𝑒 𝑤𝑎𝑦.
𝐶ℎ𝑒𝑒𝑟𝑠 𝑡𝑜 𝑏𝑒𝑖𝑛𝑔 𝑎 ℎ𝑒𝑎𝑙𝑡ℎ𝑖𝑒𝑟 𝑌𝑂𝑈 𝑖𝑛 2020!